The group
Corporate structure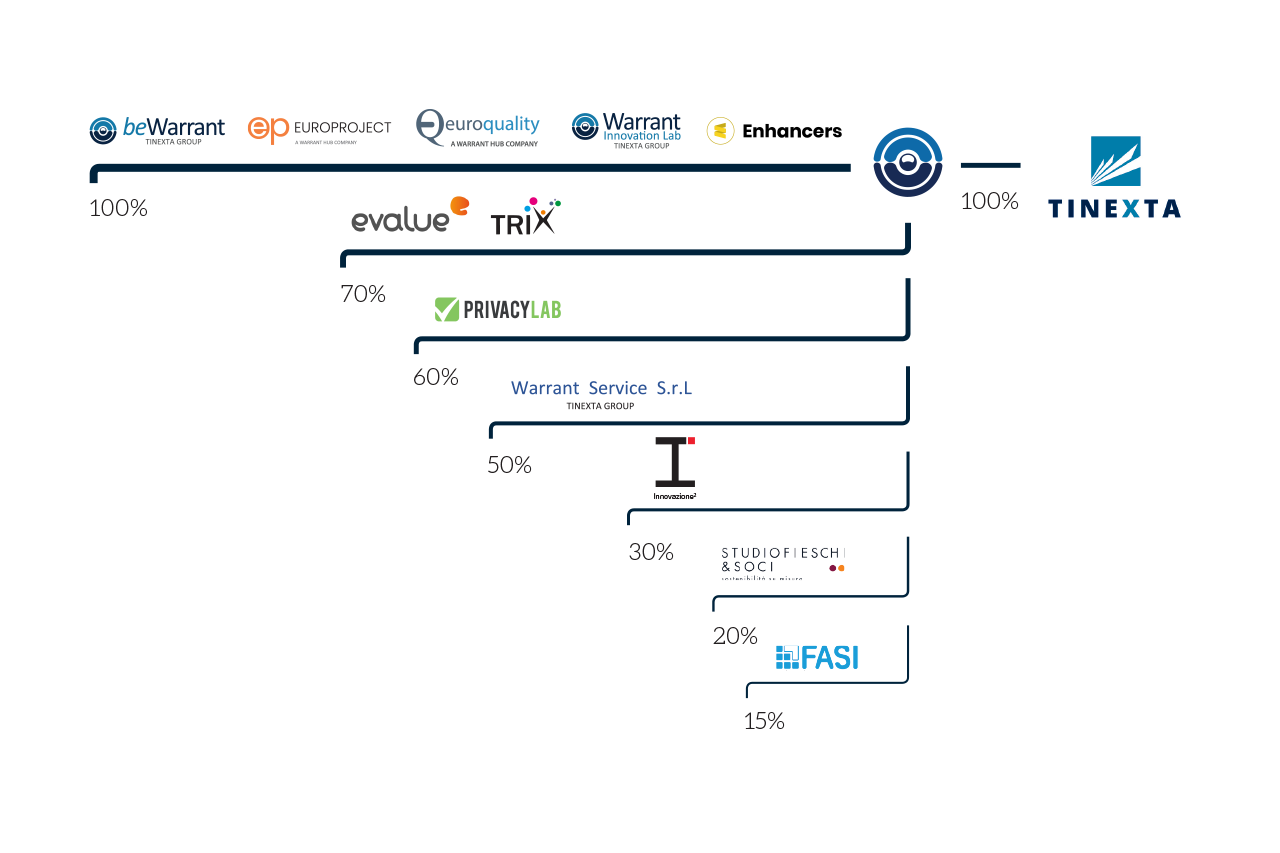 We are part of the Warrant Hub group (Tinexta Group) and offer businesses a partner for their consulting needs in the digital and innovation fields.

Founded in 1995 by Fiorenzo Bellelli, Warrant Hub is a leading name in concessional finance and consulting services for SMEs and large businesses. In addition to the head office in Correggio (RE), Warrant Hub has branches located in: Milan, Piossasco (Turin), Casalecchio di Reno (Bologna), Rome, and Naples. It joined Tinexta Group in November 2017, in the innovation and marketing services business unit, and has over 300 professionals on its books, as well as more than 7000 client companies nationwide. Warrant Hub offers advice on the following areas to companies in all industries: Concessional finance (regional, national; automatic incentives; NRRP), European funding (through the European Funding Development, Warrant Hub supports companies within the European Framework Program in Research and Innovation - Horizon Europe), corporate finance, training (consulting and finance services to support company training), sustainability (consulting and finance services to assist companies with their ecological transition), energy ("110% Superbonus" subsidy for work to render buildings more energy-efficient - energy diagnoses - energy subsidies), as well as innovation, digital transformation, and technology transfer (through the subsidiary "Warrant Innovation Lab S.r.l "). In 2020, Warrant Hub also acquired a 60% share in PrivacyLab s.r.l., leading name in the sale of licences, consulting, and training on GDPR compliance, and created the subsidiary Trix S.r.l, the exclusive owner of the first cloud platform with the ability to perform checks to establish technological innovation levels in patents.
Warrant Hub also boasts a growing presence abroad, where it operates in the European financing area through the companies "beWarrant" (Belgium), Euroquality SAS (France), Europroject OOD (Bulgaria), and Evalue Innovation SL (Spain), the last of which is also extremely active in the field of concessional finance.
TINEXTA S.p.A. Tinexta, listed on the STAR segment of the Milan Stock Exchange, reported the following consolidated results as of 31 December 2020: revenues of Euro 269.1 million, EBITDA of Euro 77.9 million and net profit of Euro 37.9 million. Tinexta Group is one of Italy's leading operators in its four business areas: Digital Trust, Cyber Security, Credit Information & Management, Innovation & Marketing Services. The Digital Trust Business Unit provides, through the companiesInfoCert S.p.A., Visura S.p.A., Sixtema S.p.A. and the Spanish company Camerfirma S.A., products and services for digitisation, electronic invoicing and certified e-mail (PEC) for large companies, banks, insurance and financial companies, SMEs, associations and professionals. The Cyber Security Business Unit operates through the companies Yoroi, Swascan and Corvallis and constitutes one of the national poles in the research and provision of the most advanced solutions for data protection and security. In the Credit Information & Management Business Unit, Innolva S.p.A. and its subsidiaries offer services to support decision-making processes (Chamber of Commerce and real estate information, aggregated reports, synthetic ratings, decision-making models, credit assessment and recovery) while RE Valuta offers real estate services (appraisals and evaluations). In the Innovation & Marketing Services Business Unit, Warrant Hub S.p.A. is a leader in consultancy in grants, loans and tax relief as well asindustrial innovation, while Co.Mark S.p.A. provides Temporary Export Management consultancy to SMEs to support them in their commercial expansion. As of 31 December 2020, the Group had 1,403 employees.